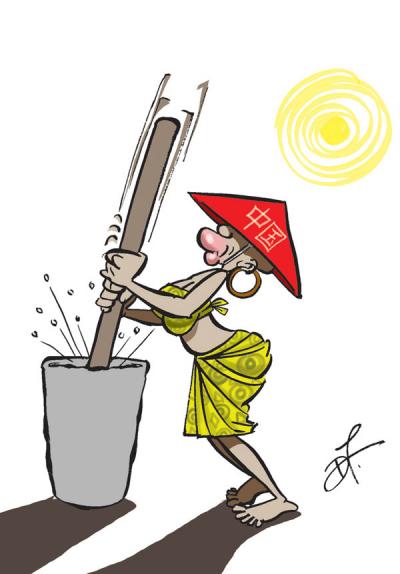 Africa Portal (an online knowledge resource for policy related issues in Africa) has just released a 115-page research report on the increasing presence and growing role of China in Africa. The report is of particular interest for Mauritius and other countries trading with China. This research report has been prepared by Saferworld's China Programme (January, 2011). The research team has brought together a number of analytical papers, including books, academic journals, policy reports, newspaper and online sources, and has consulted with a broad range of partners in China, Africa and Europe. The report has its origins in the first 'China-Africa Civil Society Forum on Peace and Development', which was organised by Saferworld, the Chinese People's Association for Peace and Disarmament (CPAPD) and the Africa Peace Forum (APFO) and held in Beijing in June 2010. The Forum brought together over 60 African, Chinese and international experts with the aim of exchanging views and perspectives on effective ways for China to assist African countries facing security challenges.
A New Chapter in International Relations
This report unpacks the issues, actors and concerns surrounding Africa's security challenges and the role that China plays in addressing these matters. Until now, Sino-African relations have drawn attention of scholars only at the economic level. As the first of its kind in this area, this report is an in-depth analysis of some of the critical issues facing African security as seen by Africans or Chinese scholars. In his preface to the Report, Dr Chris Alden, Reader, Department of International Relations, London School of Economics and Head of the China in Africa Project, South African Institute of International Affairs (SAIIA) identifies China's emerging role on the continent as a reflection of wider changes globally: China's re-emergence as a global power of consequence is most clearly reflected not at the media spectacle which constitutes the G20 summits but rather in the oil fields, forests, and commercial markets of contemporary Africa. It is here, at the proverbial margins of traditional sites of power and its expression, that the new international politics of the 21st century are being made.' Thus, China's growing involvement with the continent makes our period significant. Chinese scholars, such as Huang Zhaoyu and Zhao Jinfu, argued that China's involvement in Africa in fact marks a new chapter in the history of international relations not only for China but for the world.
The report indicates that economic co-operation lies at the forefront of contemporary China-Africa relations. In just ten years, between 1998 and 2008, China's trade value with Africa grew from under $6 billion to $107 billion. Natural resources have a prominent role in the trade relationship, but Africa also presents a growing market for China's own goods and investments. China's engagement in Africa has been welcomed by many African leaders, who see it as an opportunity to fuel economic growth, to put them into a better negotiating position with traditional Western donors and to amplify Africa's voice in international forums. But China's relations are not solely motivated by economic returns. Strategic objectives also have a place in China's engagement. They include cementing the diplomatic isolation of Taiwan and strengthening China's own international position. For example, we witnessed last year the strong lobbying of China with the South African government to oppose the visit of the Dalai Lama. The report observes that China-Africa relations are by no means static. One challenge for China-Africa relations is continued insecurity and conflict on the continent.
Military cooperation in Africa
Africa holds only 14 percent of the world's population but from 1990-2005 Africa accounted for half of the number of deaths caused by conflict. While in recent years the continent has experienced a decline in levels of conflict, a host of factors continue to challenge both the security of African states and the security of their citizens. Insecurity and escalation of violence range from ongoing insurrection to politically motivated violence and armed crime. This makes China and Chinese investments a target for opposition leaders, civil society activists and rebels, some of whom may come to be power holders themselves. China's military co-operation varies from country to country, but includes financial assistance for military infrastructure, de-mining support and training for African armed forces. Although China has contributed to peacekeeping operations in Africa and participates in anti-piracy efforts in the Gulf of Aden, it maintains no permanent military presence on the continent. However, according to some estimates, China was the single largest arms exporter to sub-Saharan Africa during this period, providing a wide range of conventional weapons to a large number of states. China is a particularly large supplier of small arms and light weapons (SALW). But China is looked upon as a potential major player in peacekeeping force for conflict resolutions.
Keeping and Building peace
China has increasingly supported the deployment of UN peacekeeping operations. This marks a dramatic change from the 1970s when it refused to even vote on resolutions related to peacekeeping. From 1999 onwards, China's stance on the use of force has become more flexible and less conservative, with some Chinese officials arguing that peacekeepers need to intervene "earlier, faster and more forcefully". Of the Permanent Five members (P5) of the United Nations Security Council, China is the largest contributor of troops. The majority of China's peacekeepers are stationed in Africa. China has not yet contributed any combat troops to UN missions. Its peacekeepers instead hold positions as military observers, civilian police and units that provide infrastructure, medical, logistical and transport support.
Conflict, Security and Development
The concluding chapter of the report argues that African actors hold primary responsibility for peace and security on the continent: external actors can only play a secondary supporting role. However, China needs to play this role, and as the chapter concludes, it needs to play it far more effectively. Chinese scholars and officials subscribe to the view that underdevelopment is a root cause of conflict. They argue that through its trade, investment and development assistance, China will contribute to African economic growth and thus will play a positive role in promoting African peace and security.