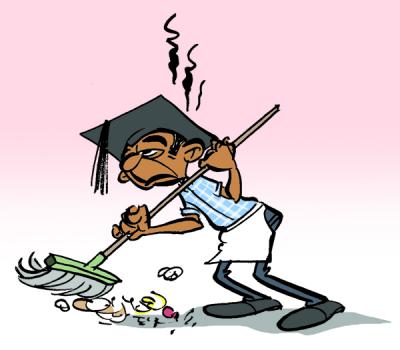 Currently in Mauritius, youth unemployment is one of the main concerns, which is affecting a huge part of the population. According to The National Economic and Social Council's recent report, there are nearly 20,000 youth who are currently unemployed of which 5000 are graduates. Moreover, about a quarter of graduates who have found a job are underemployed, that is, their position does not need a degree qualification.
There are various economic problems, which have explained this problem so far, like poor economic performance, lack of experience and training among young people, rising youth population, poor employment protection legislations and mismatch between the demand and supply of skills of young workers.  The Ministry of Finance has introduced two programmes known as The Services to Mauritius Programme and The Youth Employment Programme, to assist the young unemployed people.
But, it should be noted that these two programmes are not enough to combat the problem of youth unemployment. The problem is aggravating because adequate measures are not taken. Youth unemployment does not only have an economic impact but has also a social impact. The consequences of youth unemployment on the society can be disastrous.
In UK, a survey was carried out by the Prince's trust known as The Prince's Trust Youth Index 2013. The main purpose of the Youth index was to measure how young people feel about their lives today and how confident they are about their future. The index illustrated that the young unemployed people's happiness and confidence fell down considerably. The outcome of this survey was that the unemployed young people feel unable to cope up with their day-to-day life. In short, it can be concluded that the youth unemployment has some impact on the society as well.
So far, this effect has not been considered in our island and it is an important factor to analyse. Mauritius should also follow the concept and analyse the effect of youth unemployment in the Mauritian society. Moreover, the Ministry of Education and human resources, the Ministry of Social Security, National Solidarity and Reform Institutions and the Ministry of labour, Industrial Relations and Employment should work hand in hand to try helping the youngsters who are facing such problems. As mentioned in The Prince's Trust Youth Index 2013, various programmes are offered to people who are in need of regaining their confidence back and need the feel good factor. Personal development programme, pre-apprenticeship and mentoring to get those people into jobs are being considered in UK. Such programmes should be implemented in Mauritius to help various young graduates and non-graduates people to regain their happiness and confidence back as it might have an adverse effect on our society in the long run.