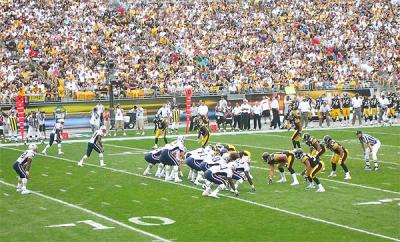 Whether it is tossing the Frisbee on the campus quad or representing your town in the local soccer league, sports remain prevalent in American society. Athletics begin at a young age, with kids joining the parks and recreations program in their towns or even just playing baseball in the backyard. They continue at more competitive levels throughout primary school to university, with extracurricular programs playing a development role, and training students to perhaps even eventually become professionals. Sports remain a leisurely recreational activity even afterwards, as friends catch up at golf and tennis clubs. The large number of sports is not limited to baseball, ice hockey, basketball, American football and soccer, but rather includes a wide scope of athletic activities. At the professional level, spectator sports have become a staple of American traditions and culture. Families gather around the television or endure hours of traffic to support their favorite teams, while these athletes are molded into international celebrities. The process of engaging in athletics in youth and developing those skills with age has fostered the growth of talented professionals that provide athletic entertainment on a national scale.
As they learn to walk and talk, kids in America also learn to run, throw and kick. Many children are exposed to sports at a young age to instill a habit of remaining active and fit, while also enjoying themselves. Most towns offer a "Parks and Recreation" program, which sponsors various educational physical activities, such as sports summer camps or monthly hikes. Furthermore, towns often create youth leagues that allow children to compete against other towns. These programs, which are run by volunteers, stress not only skill development, but also values of sportsmanship and enjoyment no matter what the outcome. Personally, I played for the youth soccer league in my town for four years; the program certainly allowed beginners to immerse themselves in the community and develop basic skills, while also providing more experienced players the opportunity to practice and refine their talents. This commitment to athletic engagement at the local level is evident throughout all ages, as one sees families jogging around town and supporting their kids' baseball games on a regular basis. The government echoes this sentiment through the "President's Council on Physical Fitness and Sports," which is tasked with recommending physical fitness and health through athletics.
Sports also play a major role in the education system in the United States, whether it is through a mandatory physical education class or an extracurricular club sports. Middle schools that offer competitive sports continue to develop skills and prepare athletes for future opportunities. The athletic recruitment process begins with some select high schools that scout students with talents, persuading them to join their teams and help build their athletic programs. In addition to the typical American football, soccer, basketball, baseball and tennis, these schools usually also offer competitive programs in cross country running, field hockey, volleyball, ice hockey, skiing, squash, wrestling, track and field, rowing, lacrosse, softball and golf.
Following high school, gifted athletes continue to play in universities at Division I, II or III schools. In the recruitment process, colleges send scouts across the country, and sometimes abroad, to find the best talent to add to their sports teams, with Division I schools often providing scholarships to entice them to attend their institution. Attracting these top athletes sometimes give these universities a sense of prestige. The governing body of university sports is the National Collegiate Athletic Association (NCAA). With 1,281 member schools, the NCAA oversees the majority of sports at the university level. These college sports, especially basketball and football, draw numerous crowds and sometimes are more popular than the respective professional sports. Several university head coaches command multi-million dollar salaries! In March, for instance, Americans anticipate the NCAA Division I Basketball Tournament "March Madness," a knockout championship featuring the top 68 teams in basketball. Either supporting their alma maters or their states' school, Americans watch the games passionately. They route on as they see an underdog team beat the favorites or watch college students, along with their marching bands and cheerleading, flocking behind the athletes representing their school. Many play in the "bracketology" fantasy game, planning out their own scenarios for the tournament and comparing the results with friends, co-workers and the rest of America. Celebrities and even President Obama (who did remarkably well last year) complete brackets!
Professional sports in the U.S. are largely dominated by the Big Four Leagues: American football in the National Football League (NFL), baseball in Major League Baseball (MLB), basketball the National Basketball Association (NBA), and ice hockey in the National Hockey League (NHL). With teams representing major cities, these spectator sports draw large crowds and are followed almost religiously by some fans. The teams operate in a franchise system, in which a set number of clubs field one team representing a region. These clubs are different than other systems such as the English Premier League, as American franchises are able to move their team to different regions, often renaming them to demonstrate this change. However, this relocation does not happen often. Furthermore, within any of the major leagues, there is no promotion or relegation process. Instead, the NBA has a developmental league system, and hockey and baseball have minor league systems; these allow rising athletes to hone skills to eventually pursue their dream at the professional level. Sports in America also do not follow a league system as the Premier League. Instead, the teams play over a season and the select best teams are given berths in playoff tournaments, which operate in a knockout method, with the winner being deemed the champion. Soccer has struggled to rise to prominence in America; however, with their performance in the 2010 World Cup and more exposure to European teams through the arrival of stars such as David Beckham and Thierry Henry, Major League Soccer (MLS) in America as a spectator sport has certainly grown. International competition is rare and often perceived as not as significant as the domestic leagues. However, during the Olympics and the World Cup, Americans do rally around their countrymen to perform at the international level.
 Sports in America ultimately play a large role in the society's culture, enabling the American youth to understand the importance of physical fitness and sportsmanship at the local level, and providing an outlet to rally around universities, professional teams or even the country. As we head towards the 2012 Summer Olympics, it gives perspective that many of those revered athletes started off as kids at their local parks and recreation program and developed their skills to become international champions.