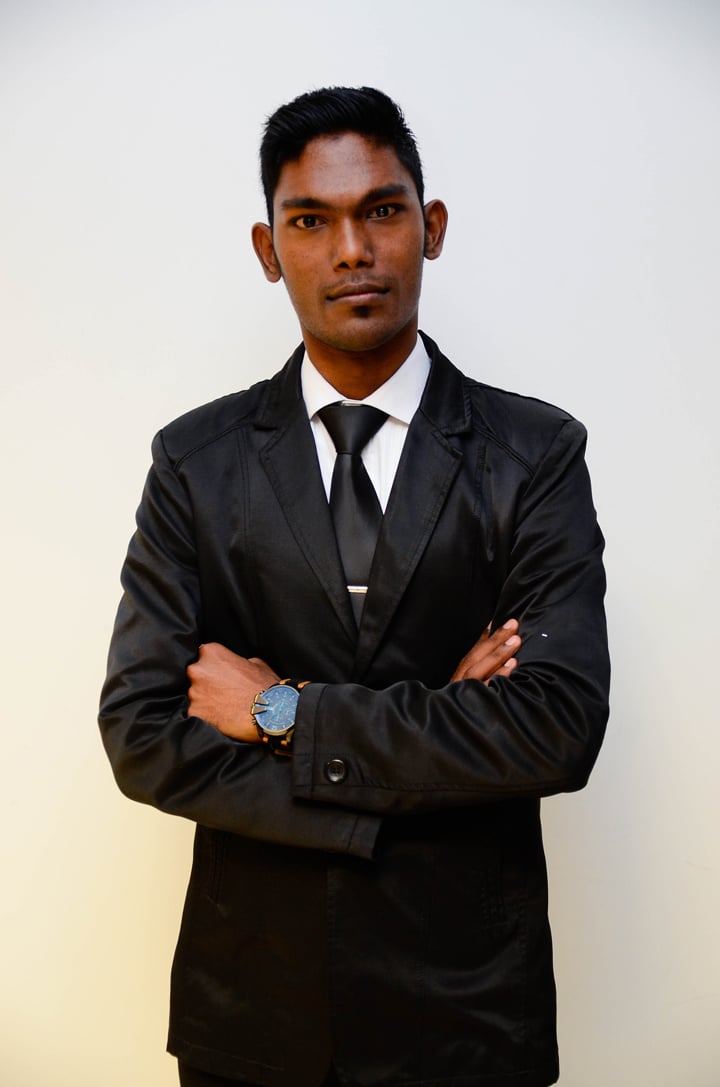 Education is a key to ultimate success; access to this facility sharpens our skills, enhances our knowledge and shapes our personality. Mauritius affirmed itself as a Republic where access to education is free and mandatory until the age of eighteen.
However, a specific set of persons is still striving, trying to adjust to the prevailing environment towards opportunities and access to education. Persons with disabilities have witnessed various changes throughout centuries. However, a minimal positive contribution has been made for inclusive education and when it comes to the creation of a proper environment for a sustainable access to education.
"The lame horse wins the classic race…"
I, Soovan Sharma Dookhoo, was born with physical disability as a sequelae to birth asphyxia due to preterm delivery and delayed milestones associated with bronchial asthma and bilateral keratoconus. I had the luck to witness the challenge of casting myself in the mould of what was devised for the mass but not for persons with disabilities.
Following my birth in 1992, I recall total inaccessibility to basic pre-primary education from 1995 to 1998, due to an improper pre-primary school infrastructure and a personnel not willing to cater for students with special needs. The real battle was to attend school while being unable to walk down the lane. Furthermore, toilets are also an utmost necessity for personal hygiene; with hindrance to toilet access, the mind will never be at ease…
Prior to embarking on primary cycle in 1996 even though my school was 400 metres from home, there was no aid for transport or accommodation towards minimum movement to and from school. My parents were informed through the headmaster that I should have been attending a specialized school since the normal school will not be able to cater for persons with disabilities. However, my paediatric surgeon informed my parents that I should not be deprived of a normal school curriculum at any cost; my mental capabilities were sharp enough for me to compete in a normal school. Inclusive education doesn't imply specialized school or the dumping of persons with disabilities into normal schools.
"We cannot move the class to ground floor…"
What the teacher at that time stated is still fresh in my mind: "We cannot move the class to ground floor, just because the child faces difficulties with stairs." This statement marked the end of my social school life. I was thus unable to feel the euphoria of breaks, recesses and extracurricular activities.
Schooling is for sure never solely academic; social encounters are definitely part and parcel of a full humane empowerment. Unfortunately, I missed that major step during my primary education. Luckily for me, I was awarded 5 'A's and the allocation to one of the best colleges in the North; 2004 was a milestone in my secondary education. The question of mobility and accessibility restrictions emerged again but my parents fully understood the importance of proper transport facilities to the school some six kilometres away from home. Thanks to their personal investment, van services were provided to me. The basic transport logistics should be well defined and refined.
Bullying
Inadvertently I found myself halted when I came across laboratories and subject specialized classrooms. The extra physical effort it required me to produce in order to match the 'normal' students did make me question myself. Am I part of the system – will I be able to make it? Besides, bullying came in and it was a mix of physical and mental harassment. An artificial void cropped up, and I was unable to address the difficulties I faced, through the fear of being inferior. I was confined in an educational institution – unable to unleash my abilities — while I tried to adapt my disability to the prevailing environment.
The human mind is the most powerful asset. Following the adverse effects of bullying in 2007, teachers and non-teaching staff of the school coached me and boosted my abilities. The flame shone due to the establishment of a proper framework. It triggered the much-needed burst to unfurl my capabilities. I bagged my Higher School Certificate in 2010. Proper empowerment and personnel will always pave the way for inclusiveness; alternatively, with no proper system in place, it will be back to square one – which is dumping.
MBA holder
The desire to achieve and prove myself was instilled in me through the support of my parents. True it is that education starts at home.
2011 was symbolic as I gained entry to one of the leading universities of Mauritius. However, again how different I was! Back to the struggles of access, I was lost psychologically. Despite the advent of free bus travel, I felt confined for I was unable to further develop my abilities. The experiences of being denied access to lectures on basis of my disability left me questioning how far we are from accepting persons with disabilities within the normal education system.
However, 2016 was a monumental year with the ultimate walk on the platform to be a graduate. Being an MBA holder while pursuing professional qualification in marketing, I acknowledge having gone through the traditional education system before regulations were promulgated.
Special Needs Education Authority
The Special Needs Education Authority (SNEA) will be key to rectifying and fulfilling shortages. It is a long way ahead but through consultations and suggestions from valid stakeholders, the aforementioned authority will be a catalyst to inclusive education. The Republic of Mauritius previously underlined the need for polytechnic and holistic education; aside from bridging the gap between pre-primary and primary education.
I promptly wish SNEA will bridge the gap between different disabilities and the prime education system. Through the Special Needs Education Authority, Non-Governmental Organisations will be bound to rework their commitment towards the cause they are likely to work for. With NGOs mushrooming over the last decade, a regulatory framework will be most awaited to ensure transparency and accountability for underlying cause.
Parents of persons with disabilities will be able to breathe, for a child with a disability is never a liability. It is the proper environment which has not been crafted for issues relating to disabilities. As pioneers to their child's upbringing, SNEA will be addressing the issues for better care, coaching and opportunities.
The success of the authority will depend on the personnel since working with persons with disabilities does not rely solely on academic qualifications. Each disability is unique and the approach to solutions differs. Future employees need to demonstrate expertise and valid experience through cases and situations tackled. If only academic qualifications are taken into account with general experience, the authority will become overly bureaucratic while if endowed with an exquisite personnel it may be an authority of intent.