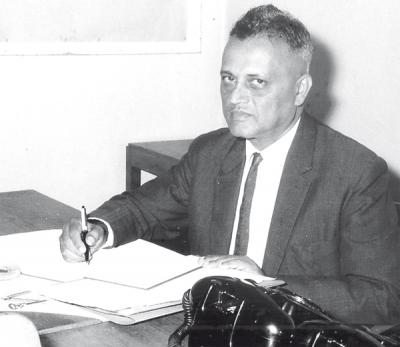 Family Background
Ramlall, Beekrum's paternal grandfather, mastered Hindi, Sanskrit, Hinduism, wrestling and lathi (stick used for self-defence) wielding in his parents' native Ballia, North India. In the early 1900s, he taught them to people of La Laura, and its neighbourhood, where the family had settled before moving to Long Mountain. Seenarain, Ramlall's only child, and Beekrum's father, later lived in Port-Louis. Contrary to his Sanatanist father, he became an Arya Samajist, chairing in the 1920s what is now Arya Sabha Mauritius. In 1920, a few inhabitants of Long Mountain, including Seenarain and Baloram Mooktaram, a Sanatanist, founded there the present Port-Louis-based Hindu Maha Sabha (HMS).
Public Life since 1940 and Active Politics 1948-1976
In 1940 Beekrum founded at his native Long Mountain the Sewa Samithi, a youth organisation whose members he trained in the use of lathi, which he later put under Basdeo Bissoondoyal's command for his Jan Andolan. He also helped Hurryparsad Ramnarain to campaign against alcoholism and to allow cow breeders collect fodder on sugar estates (1944).
As the HMS's chairman, a post he held for several periods, Beekrum obtained under its control the state land around the Ganga Talao (Grand Bassin). He also advised many a founder of Indo-Mauritian organisations, besides pressing for the creation of the Police, and the Local Government, Service Commisssions. Upon his initiative, the Mauritius Sanatan Dharma Temples Federation was born in 1957, and registered by 1960. For the Shivaratri Festival, he helped, through some logistics, Manilall Ramdin's Jai Hind Samaj to receive pilgrims at Ganga Talao (1950s-early 1960s).
Espousing the vision of Dr Seewoosagur Ramgoolam, later Sir (SSR), Beekrum contributed to his success, as for Harilal Vaghjee and Aunuth Beejadhur, in the legislative elections in the North in 1948 and 1953. For the 1959 contest, he convinced MLP leader SSR to give tickets to six collaborators within the MT, including himself – Kher Jagatsingh Doojendranath Napal Premchand Dabee, Ramawad Sewgobind and Somduth Bhuckory. All were elected, except Bhuckory who lost marginally. Beekrum's then 80% score of votes remains a record in Mauritius. MP for 17 years (1959-1976), he served as Parliamentary Secretary and held a brief stint as Minister. He was the brain to organise at the airport, on 18 September 1961, a 50,000-rally to welcome SSR as Chief Minister upon his return from London. A rebellious, but sincere, politician, he criticised, whenever necessary, the authorities and even Prime Minister SSR.
The open, enterprising and self-sacrificing Mauritian, Beekrum was not made Minister in early 1970s. Four much less deserving MPs were appointed. However, after SSR's electoral defeat of 1982, he apologetically confided to Beekrum that he should have heeded the latter's editorial criticisms meant for the country's good.
Nalanda Bookshop and Mauritius Times
After importing from India publications in Hindi and English, for sale on several occasions and, later, at the Central Market, Beekrum founded a bookshop in Port-Louis itself in 1946. Named Nalanda, after the ancient Indian university, where were available all sorts of Indian publications, it soon became the country's literary hub.
After his return from the UK where he had spent nine months in 1953, Beekrum launched, with a few friends' support, a militant paper, Mauritius Times (MT). He accepted, after resigning as teacher after 16 years of service, to be its founder-editor (1954-2000), countering anti-Hindu and -Indian propaganda. Founder-director of Nav Jeevan (1962-1965), a fortnightly in Hindi, he had Sooryaprasad Mungur Bhagat as editor. In 1956, Beekrum held public meetings across the country to have admitted all children of primary school-going age. His then other campaign, through the MT, "Down with PR (proportional representation)," as asked by the conservatives, too was successful. The articles in his MT since the start reflect the country's socio-political history. It published every week a topical poem in Bhojpuri (Roman script), by Dr Brajendra Mungur Bhagat, from 1954 until his death (2004).
In 1984, Beekrum, doyen of the Mauritian press and founder-chairman of Mauritius Union of Journalists, arrested, together with his supporting 44 demonstrator-journalists, thwarted the Newspapers and Periodicals (Amendment) Bill imposing on print media owners a security of Rs500,000.
Contribution to Marked Commemorations
The MT came out in special edition on 3 February 1956 in homage to Manilal Doctor, following his death a week earlier, who had battled for Indo-Mauritians' uplift (1907-1911). By 1959, the meeting convened at the HMS's seat by Beekrum set up the Manilal Doctor Memorial Committee, with Motoocoramen Sangeelee as secretary. Then was erected his statue in Port-Louis. As there was no monument of Adolphe de Plevitz, the first champion of Indo-Mauritians' cause (1870s), Beekrum personally met the cost of his statue that was installed in the yard of the Mahatma Gandhi Institute (MGI), Moka, in 1998.
In the late 1960s, Beekrum spotted the steps used by indentured labourers upon their disembarkation. As from 1970, he was the first to observe remembrance for them annually on 2 November, a public holiday since 2003, through a ceremony that continues. In the 1970s, he advocated in his MT the creation in Delhi of a Ministry for Overseas Indians, now a reality. Also in 1970, contacted by Public Assistance Commissioner Ramnarain Ramsaha, who had saved the records of the arrival of Indo-Mauritians' ancestors, Beekrum vainly persuaded the authorities to take this precious register to the national archives. Thanks to him, the documents, later dumped at the archives, were further secured and properly stored at the MGI by 1975.
In 1976, when was scheduled Indian Prime Minister Indira Gandhi's visit to Mauritius, Beekrum, after cabling New Delhi, convinced SSR to change the programme, allowing her to consecrate the Coolie Ghat. In 1978, upon his suggestion, a commemorative plaque with its new name was placed at this spot. Declared a historical site in 1985, the renamed Aapravasi Ghat (landing spot of immigrants) was made a World Heritage Site in 2006.