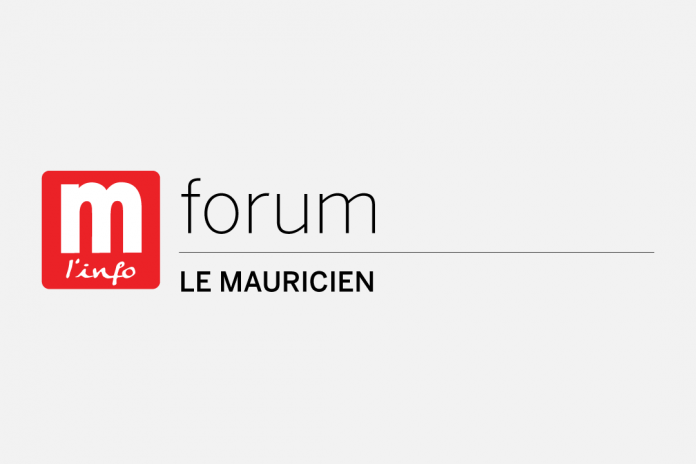 Rambassun (Sandeep) Sewpal
Chartered Architect, Principal at Sandeep Sewpal Architect
When it all comes down the line
And the lights they turn to greed
And you race off with your tyres screaming
Rolling thunder
And the people choke with poison
Children cry in fear
But you've got your fast bullet
One way ticket out of here
(Public Enema Number One by Iron Maiden)
What makes us Mauritian? It is strange that 50 years after our independence, we are being questioned about who we are. People today accept that the only common denominator is to live in peace with one another. And that denominator is nationalism, which is the love for our motherland. Our independence is the symbol of unity in diversity. And privatisation is about losing our independence. In order to save our independence and identity as Mauritian, many individuals, trade unions and organisations have organised marches of protest to stop the privatisation of the Central Water Authority (CWA) in recent months. And this unity in the fight against privatisation of water for the sake of our people makes us Mauritian.
The reason why people write about history is in the attempt to prevent the mistakes of the past to be repeated. Many developing countries in the world opted for water privatisation in the expectation of clean water at a socially acceptable rate but are now terminating their contract prematurely and returning water provision to public control. Why? All these countries combined had millions of people who had no access to clean drinking water, any safe sanitation and people dying of water related-disease. They needed the technological know-how of multinational companies to help bring water to the masses. According to a report of the Transnational Institute (TNI) published in 2014, 'More than 180 cities and communities in 35 countries have taken back control of their water services in the last 15 years', as rightly pointed out by Chetan Ramchurn, in his article The Men Who Sold the World (Forum – Le Mauricien, April 17, 2018). The report tells us that, 'the reasons local policy-makers are putting water back under public control are similar across the world. They include poor performance, under-investment, soaring water bills, lack of transparency and poor service quality.' Since privatisation of water is perceived as a worldwide failure, why can't Mauritius learn from these mistakes?
According to Nathaniel Meyer, Water Senior Organiser at Corporate Accountability International, "Public officials often claim that due to government budget constraints they are being forced to pursue 'partnerships' with the private sector. But this justification is dangerously misleading, since the private sector consistently relies on the government or taxpayers to fund infrastructure, while extracting a profit, the margin of which can even be guaranteed in concession contracts," Therefore, in a country like Mauritius where near-universal access to water has been achieved, what is the need to privatise water? It has virtually been the government's commitment to build and maintain infrastructure to deliver water to residents. Then why not continue to do so? What is the need to privatise a public utility which would no longer be democratically accountable to the people? I still believe that if we privatise our public utilities and services, Mauritius will become closed to the hard-working people who make our economy go.
More articles on this issue by Rambassun (Sandeep) Sewpal –
 'Privatisation of water in Mauritius?' – FEBRUARY 20, 2016. (Forum – Le Mauricien)
'No to Privatisation' – MARCH 24, 2016 (Forum – Le Mauricien)