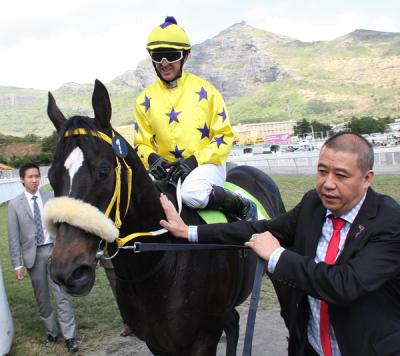 Revoilà Mark Neisius, serait-on tenté de dire. Neuf semaines après avoir reçu sa feuille de route de l'écurie Rameshwar Gujadhur, celui qui a fait le tour des écuries depuis qu'il monte à Maurice et dont les services furent même retenus comme Club Jockey dans un passé pas trop lointain, s'est rappelé aux bons souvenirs de ses partisans en menant à bon port Cassido pour sa première monte en tant que freelance. A Turf Magazine qui est allé à sa rencontre à l'issue de la journée, le Sud-Africain s'est dit très heureux de pouvoir à nouveau monter au Champ de Mars « a place where racing is much more fun » et a tenu à remercier tous les gens qui l'ont soutenu durant les moments difficiles qu'il a vécus ces derniers temps. Il demande aux turfistes de « follow him with confidence » et les assure qu'il fera de son mieux pour justifier la confiance placée en lui.
Mark Neisius, how does it feel to make a winning come-back to horse racing nine weeks after you were fired by the Rameshwar Gujadhur stable?
You simply cannot imagine my happiness. It's difficult to put words on what I am living actually you know. I never expected it. Come-backs like that only happen in a dream and for them to materialise is pretty special. It's just a sort of giving you a whole splash of confidence. Obviously I went through some rough times lately. It's never nice to get fired. To have a winner on the very first day just proved to yourself and to others that if you work hard and you stick your mind to your job, things can happen.
You have ridden for almost all stables here and you were even employed as Club Jockey some years ago. Now you are a freelance. Can we say that Mark Neisius cannot do without Mauritian racing?
You know, I've been with my girlfriend for six years, we've got two kids and we decided to eventually tie the knot. We settled here in Mauritius and we agreed that it's going to be our home. The only thing I know of is horse racing. It's very hard for me to go to another field. I am 39. I think I still I have some five or six good years of riding and that's what I enjoy doing. The fact that I was eligible to ride as freelance jockey was an opportunity to be taken the more so that Mauritian racing is in my blood now for having ridden here for so many years. I'm just glad it worked out and there are a lot of people that I have to thank and who have been by my side. I really appreciated their support. I knew that it was going to be tough and that it would take a lot of work but the fact that I knew they were behind me gives me the courage to work harder. It's a good springboard and I can assure you that I will give the best of myself.
Has it never crossed your mind to go back to South Africa where racing is on a regular basis and where it would have been easier for you to obtain rides?
I have left Mauritius before and go back home to ride and I can tell you that I prefer by far race riding in Mauritius. You do a lot more work in South Africa and with the travelling and so on, you do not have any time left for the family. Racing for me in South Africa is going through a tough era. It's becoming very competitive and you have to work every single day spare the fact that you have to fight for your rides. In Mauritius, we race once a week. I am not saying it's easier but racing here is to me much more fun, the atmosphere a lot much better as compared to South Africa. If ever I had to go back to South Africa, it would be for two months during the off-season here in Mauritius but I will definitely come back afterwards.
In what way does riding as a freelance differs from that riding as a permanent stable jockey?
I think there is a lot less pressure. Today (ndlr: Saturday) I could feel that as there was not any kind of pressure on me. When riding as a freelance, you don't get excited, you don't want to go around, kind of forcing your horses. I think it's just a boost because when you're riding under pressure, you are bound to make hasty decisions. When you are not riding under pressure, you're more relax and horses tend to run much better when a jockey is relaxed. Cassido for instance was totally relaxed where he was, he was enjoying it. The same applies to Darcy's Arcy. I just waited for the home straight to ride both of them and they fired well. Sometimes you make a decision to go too soon and it eventually cost you the race. I honestly think the difference between riding as a freelance jockey and a stable lies in the fact that there is a lot less pressure.
But there is still the disadvantage of not getting the best rides as freelance jockey, isn't it?
Definitely and I live up to this reality. Today (ndlr: Saturday) I was lucky enough to get six very decent rides but for sure as freelance, you will not get the best rides all the time. You will probably be called to ride second or even third chances. But it's a challenge for any jockey.
Were you not surprised to obtain six rides for your very first meeting the more so that it was said that fitnesswise, you were not at hundred percent?
Yeah, I was surprised enough to ride in six races but ironically think it was because of my weight. It took a toll on me in the past few weeks where I reached 55kg. It's only when I knew that I will get back to racing that I started jogging and do some gym. That's why I was called upon to ride only the big weights. I could feel that I was not hundred percent fit. But I do think with a lot of track work and riding on a regular basis will help me to get my fitness up to the required standards.
With six decent chances on the card, can we say that you had a silent hope of bagging a win?
To be honest, deep down, I was hoping to ride a winner. It was more 'hope' than 'expectation'. The fact that the first one won was a big boost to my confidence. I seize this opportunity to thank the trainers who have put their trust in me last Saturday.
Now that you have already brought a winner, what racegoers can expect of Mark Neisius in the coming weeks?
Look, as I said earlier on, I am aware I won't get first-hand choices to ride but if ever I'm on horses that have decent chances to win as it was the case today, do trust me. It's a new era in my life and I intend to make the most of it. Follow me with confidence.