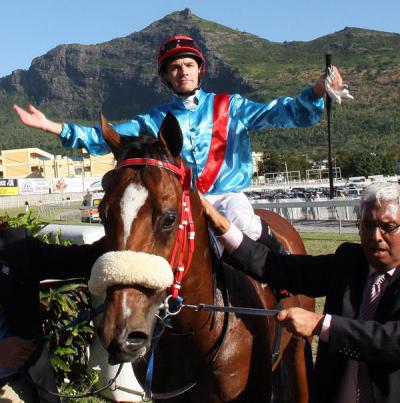 Après plusieurs semaines à la recherche de ses repères, Richard Mullen semble s'être bien adapté à notre piste. Le Britannique s'est signalé dans l'épreuve phare, «The Black Caviar Lightning Cup», sur Eskimo Roll qui inscrivait, du coup, un nouveau track record sur 1000m avec 56.02. Un succès qui permet à l'écurie Gujadhur, dont c'était la quatrième cette saison dans une épreuve principale, de se hisser à la cinquième place au classement général, tandis que son jockey enregistrait sa troisième victoire sur notre turf. Malgré ces résultats honorables, Mullen, sous correction de son entraîneur, ne place pas la barre très haut et ne luttera visiblement pas pour le championnat. Reste qu'avec les nouveaux dont un certain Vettel qui effectuera son baptême du feu dans la Barbé Cup, il espère tirer son épingle du jeu.
Richard Mullen, Eskimo Roll was very impressive today winning in record time. Were you confident?
He has been working very well since his first run. I was slightly worried to bring him back on the 1000m but my trainer, Soon, was very confident. It wasn't great with a barrier seven but he broke very well and he took me to the front very easily. He travelled beautifully and when I pressed the button at the 200 metres he was simply electric.
Can we say half of the job was done with his good start?
He actually surprised with how much speed he has got at the gates. When I studied the race, I thought that we would have to sit third or fourth as there were a couple of horses with a good early pace in the race and that we might struggle to go to the front. But he jumped well and got to the front very easily. I was able to give him a breather round the turn and at the 200m he quickened beautifully.
Though he won quite easily today, do you consider the 1000m to be his ideal distance?
Personally, I think 1365m will suit him better. I actually think he is very versatile. I think that he would have stayed in that bracket if all the races were on 1000 metres. But since all the best races are on 1400m onwards, I think 1365m would be the maximum for him. 1400m will quite stretch him as he has got a lot of natural speed. He is versatile and trips between 1000m and 1365m would be ideal for him.
It could have been two with Solar Symbol…
Solar Symbol had a great run. Actually I thought I would win because everything went perfectly for us. I got the gap and the split. But unfortunately we fell on a horse of a stable that can't do anything wrong at the moment. The winner was just too good for me on the day. As a matter of fact, he broke the track record.
Can we have a few words on your other rides of the day?
Appeal Board was a little bit sluggish at the gates. I think at this stage, we might step up in distance with him. King Fahiem ran a good race as well. His first start was very good but last time was very disappointing. We put on the chip pieces (ndl: side-winkers) and they proved very helpful today. He ran a strong race against two competitive horses. I think it won't take long before he gets to the winner's enclosure. As far as Legion Of Honour is concerned, he was very disappointing. We jumped from a bad draw and he was very keen early on. I think we should fit him with a cross-noseband as he runs with his mouth wide open and he is quite hard to control. It was not the ideal race as I got pitched out wide the whole way and I couldn't get him back as he was doing too much. We have to go back to the drawing board with him. Maybe also we might get him down in the grades. He was probably the most disappointing horse of the stable today.
After six weeks riding for Gujadhur stable, how do you find the string of horses under your hands?
We have some good horses. But as I've made to understand, most of our horses were sacrificed last year for the championship and they are paying the price. Their handicap has gone very high. They are probably recovering from last year's exertion you know. It was great for the stable to win the championship last year but as a whole, some of the horses were sacrificed. But we have got some horses that are coming in. I think there are six or seven horses in the stable that can win. For the rest, it's going to be a struggle.
The Barbe Cup is scheduled in two weeks time. Your stable will be represented by the newcomer Vettel and Gold Cup winner Tandragee. Have your already made your choice as to which one of them you will ride on the big day?
You know Vettel is a horse for the future. He is working well. For sure he will improve on that run. He's one of the new horses and certainly I'll stick with him. He a nice horse and I'm getting used to him at training. The distance is probably a little short for him. But I thought it was short for Eskimo Roll as well and he proved me wrong. Vettel is an exciting horse and he is obviously my choice.
How do you rate his chances against the top horses here, especially Tales Of Bravery who put on a bold show last time out and who have the advantage of at least a run under the belt?
For sure Tales Of Bravery was very impressive but he will now take on much better horses in the Barbe Cup. I don't think he will have it easy as he did last time out. But he is an impressive horse and he will certainly be the horse to beat. But I've got a very good horse to ride as well. But as I said, you'll see the best of him on longer trips. But we have got to start somewhere and the ideal place is the Barbe.
We notice that you are having your share of fans. For sure it's a big boost to have the public behind you…
I think I had fans before I came but for a few weeks I lost them (laughs). They left me and it's comforting to see they are coming back. I think they are more fans of the stable and they know that everything we ride is trying to win. Unfortunately it doesn't always happen that way. Hopefully we can give them some more cheers before the season ends.