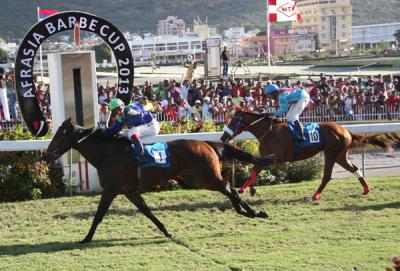 Tout le monde sait que Keagan Latham n'avait pas été bien inspiré sur Ice Axe dans la Coupe d'or 2012. Le Sud-Africain était attendu à la croisée des chemins, était-on tenté de dire quand il fut appelé à prendre la relève de Gaëtan Faucon, suspendu par son employeur. Keagan Latham fut surpris d'avoir été choisi par Ricky Maingard et il avait la pression sur les épaules. Mais la pression fut enlevée à l'issue de la longue conversation qu'il avait eue avec l'entraîneur Ricky Maingard qui, de par la tactique choisie, avait tout pris sur lui si jamais Tales Of Bravery était battu.
Keagan, you were booked to ride Ice Axe but at the end of the day you found yourself on Tales Of Bravery…
It's incredible how luck can go your way. I was very surprised when Ricky asked me to ride Tales Of Bravery. But nevertheless it was a well taken opportunity. He is a very good horse and he won nicely.
Without being wise after the event, do you think that Ice Axe stood a chance of beating Tales Of Bravery today?
Listen, I honestly can't say that. It was always in to my mind to ride Ice Axe to beat Tales Of Bravery but from a personal point of view, I think Tales Of Bravery might be slightly better than Ice Axe but we will have a better judgment only when they will compete together.
To come back to the race, were you happy where you were in the race?
I was very happy where I was. I was lucky enough to get a nice split inside Richard Mullen's horse which was fading out down the road. But my horse is such a brave horse. I think he would have won either way.
If you had to choose between Tales Of Bravery and Ice Axe, which one would you pick up?
It's a choice I don't ever want to make (laughs).
Were you not concerned when you saw Tandragee striding freely in front?
Not really. Obviously he is a very good horse as he beat Ice Axe in the Gold Cup last year. But when you ride such a good horse as Tales Of Bravery, you know what you have underneath you. It was always in my mind that he will get back to me in due time. In the straight it was only a matter of catching him.
Do you think Tales Of Bravery will be as effective as he is over further?
I think only time will tell. For me, I think he is only a miler but you know Ricky is a very good trainer. We don't know what he is planning for the horse in the future.
The Gold Cup is for sure far away. Do you think he will be the main contender in that race?
Definitely. I think he will be a strong contender in that race and in any feature race down here. I guess a lot of people think that he won today because of the withdrawal of Solo Traveller and the dramatic passing away of Top Seller. For me they did have their chances in the race but do not take anything from the winner. He won very easily as the time unfolds. Even in the presence of Solo Traveller, my horse would have won.