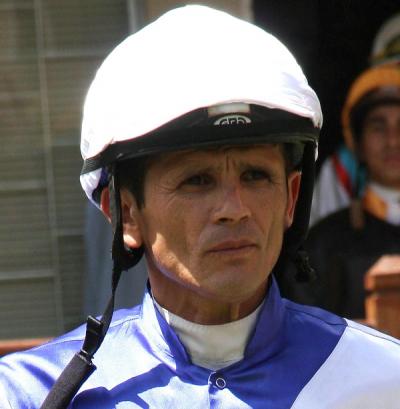 Before going back to South Africa, Andrew Fortune wanted to set things straight as far as the Stewards' room is concerned. The 46 year old jockey is of the opinion that racing is in a very bad situation in Mauritius and the racing industry needs to find itself a real leader.
Mr Fortune, you've been here for 8 meetings. What is your opinion of racing here in Mauritius ?
I love the racing here in Mauritius. I love the crowd, I love the people and I think it is a good place to ride. I loved the time I spent with Ricky Maingard who is also a good friend of mine. But it is very difficult when your trainer tells you that you are only limited to a certain position and on the other hand you have the Stipendiary stewards who can question any decision that you make. It is therefore difficult to ride. When you ride in a race, it is all a question of instincts. You know what I mean. Now that you have the stewards on your back all the time, I explained that to them and I think I did the right thing. I have the experience to know what is the right thing to do. I have loved riding here and I know what Mauritius is now but you just have to change a couple of things.
What do you mean by change a couple of things ?
I think the racing is dirty and that you don't have a good leader. You have to get a new leader. Who is your leader ? Mr Paterson? Don't tell me as he is no good leader.  He is not a free man. I can tell him in his face. There is no doubt about this, no doubt in my mind. It is all about a one man's show.
Mr Fortune, it is very serious what you are saying. What makes you so sure about it ?
To what the man sees all the time. You know what he told me on Tuesday, in front of his junior, Mr Mahadia, that he would have given me six months had it been me riding Rear Admiral who was not ridden to win, according to him. I then asked him why he did not enquire into this ride…There was no answer!
Let's go back to your ride on Count Emmanuale on the 32nd meeting when you got suspended. Did not you deserve it ?
I did go fast and I don't argue the point that I picked up the horse too early at the 400m. I told Mr Paterson I made a mistake but he answered that a jockey of your calibre cannot make mistakes. I then told him when he had drinks with jockeys, didn't he make a mistake? We all make mistakes. We are human beings. As for myself I would ride nine good races and one bad one. You know why? It is because we are human beings. The only one that does not make mistakes is God. You know before my first meeting here in Mauritius, he told me that he wanted all the jockeys to get to move by the road, which is at about the 500m mark. He got a point as I had been going fast on Count Emmanuale the first time. But as for the last meeting, I was quite easy turning for home. I made a decision to go on the inside and that was a wrong decision. Had he sanctioned me for that, I could have understood but don't tell me about the back straight where I should have switched out to follow a 20-1 horse, so as not to be pocketed by Robbie Burke's horse. No, I was right behind the said horse round the last bend. He accepts that I made a mistake at the beginning of the straight and he does not sanction me for that. I can't understand. There is no consistency in his decisions. When some one does 10:90 a furlong when he is clear by 8-10 lengths and nothing is done. I don't want to complain but I can tell that there are things and people who are not clear here. I am sure that if you inquire you will find dirty things . There are definitely dirty things and dirty people up there.
Mr Fortune, despite all that you still want to come back next year ?
It's because I love the racing here and I also know what mauritian racing is. But there should be a change in the leadership. Mr Paterson has been here before but can you tell me why he has not been here for the last two years? I think it is like being married to a woman, getting divorced and marrying the same woman. You know what I found in Mauritius is that the ones that complain the most about racing are always the dirty people, those who do the wrong things. They have all done dirty things in their lives. There are people that do the same job as you that do it.(Il nom me un correspondent..) These people expect everybody to be dirty. Do you know what they can offer you to bump a horse in a race?
Who offers money to do that ?
It does not matter who but what is going on. That's how dirty racing is. Look let's say a naked woman knocks at your door every night, you will jump on her, that is what it is up to. When you come at the first time you are clean but at your second… Temptation is human.
And you still want to come back…
I want to come back hoping they will clean it up. You know what they should do. When they sanction a jockey, they should also give him a suspended sentence. If he does it again, he gets the normal sanction plus a suspended sentence of three months. I think jockeys would then think twice then. That is how you clean it up. If I come next year, it would be for 3 months but not for every stable. The only trainers I could come for are Maingard, Rousset and Allet.