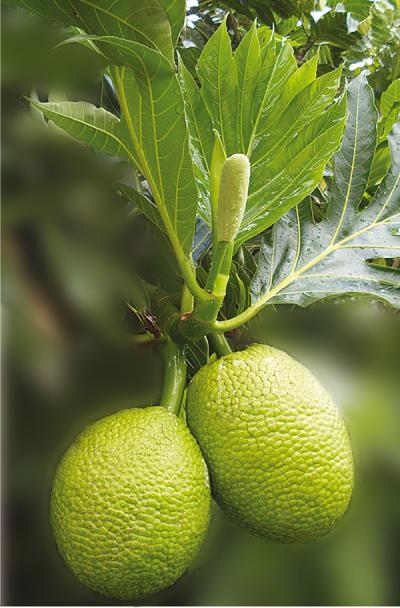 After several papers, we are happy that the Government has reacted.  During its council of Ministers meeting held on Thursday 30/03/2012 a decision to grow thousands of breadfruit trees and to produce breadfruit flour was taken. We would like to congratulate the Prime Minister for having approved this project.  
A few months ago, a high level committee chaired by FARC and comprising AREU, University of Mauritius, MACCF, COLEACP PARIS and CONSERVERIE SARJUA had already held several meetings at Réduit.  Minister Faugoo is very excited with the project and things will be officialised during a breadfruit day at Wooton on 20th of April 2012.  
Conserverie Sarjua is the pioneer company for having produced breadfruit and manioc flour but the first country was Brazil.  In December 2012 AREU organised a tasting session at Shoprite and customers were delighted to eat "Farata à base de farine de fruit à pain". Many consumers were in need of a "gluten free" flour.
During last year's Boss competition organised by the MBC and DBM, the breadfruit flour project came 3rd with a Rs 25,000 cash prize.  Since then the project has earned big publicity.
Mauritius has imported for year 2010, 93,000 tons of flour for 3 billion rupees.  The local demand is quite big.  The problem is the price of breadfruit which is more than Rs10,000/ton and at this rate the cost price is above 90,000/ton of flour. It is clear that breadfruit growers can only increase the yield.  We need full loaded lorries in consignments of several tons just like sugar cane for the sugar factory.  An industrial production can only help to bring down the price and make it more affordable particularly to people suffering from diabetes.
It is high time for the Minister of Agro-Industry to consider the following:
(1) Producing young breadfruit plants through root cuttings and root suckers in all the stations of AREU and also encouraging several private nurseries like Labourdonnais.
(2) Establish flour factories particularly in Government buildings like those owned by DBM and look for special loans and grant from the Food Security Fund.
(3) A subsidy that can be paid to breadfruit and manioc farmers and also to flour manufacturers.
(4) A vast campaign to explain the different recipes. Areu is already organizing a culinary competition "à base de fruit à pain" with a Rs 7,000 cash prize.
(5) Supermarkets have the responsibility to promote locally-produced flour and not charge any RFA and all types of charges as this product must be sold to the customers at a most competitive price.
Jugnauth and Bérenger
In fact, SAJ said that in war times our ancestors have consumed Manioc and patate to survive. He ought to have said breadfruit flour is the best flour with 17 vitamins and is good for diabetic people.  World population has now exceeded 7 billion and we have to produce our own flour so as not to be in the same situation like many African countries starving to death due to lack of food.  If Mauritius can produce more than 400,000 tons of sugar it is clear that we can produce the best flour of the world using breadfruit, manioc, patate and many other agricultural products rich in carbohydrates.
This is a national issue and we have to plan the needs of food for the next 50 years.