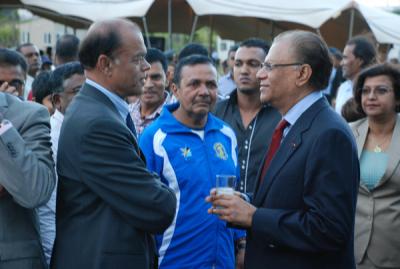 IN THE WAKE OF LAST FRIDAY'S BUDGET SPEECH, THIS IS THE SECOND POINT OF VIEW FROM A LAYMAN'S ANGLE. SUMMARIZED RIGHT UNDERNEATH ARE SOME OTHER POINTS TO SPEAK MY MIND. REMEMBER: THEY ARE IN NO ORDER OF CHRONOLOGY OR PRIORITY.
 
1.              In the last Nov.6 article…. unfortunately and despite myself…. I had to refer to a few of my past 1970s and 1980s activities and that both inside and outside the NATIONAL ASSEMBLY. For sure, it's not in my culture.
However, I had to refer to them because all those born after 1970 have not lived them and hence have no first-hand knowledge. Readers will surely understand and forgive me for that diversion — though against my will.
 
2.              I genuinely believe that the Budget speech was too long (some 2hrs40 mins). Though the Minister is good-looking/young/a professional accountant/an experienced politician/and highly articulate…. psychology pundits and other alerted observers concluded that his delivery, after 100 minutes, went boring and tiring. The Minister's own few voice-cracks, repetitions and off-and-on slight stammer spoke volumes.
Some people often forget that the Budget speech is and should be but an official statement outlining the main proposals of national revenue and estimate. Small details are avoided in all advanced democracies.
BUT THE MINISTER, WITH HIS RAGING TORRENT OF 302+ MEASURES, DEFINITELY WANTED TO CAST HIS NET AS FAR AND WIDE AS POSSIBLE (ratisser large). Why? Trying to please as many Ministers and people outside the Cabinet as possible.
All considered, I do not agree that it's the dying wish of someone who wants his legacy to be imprinted in the mind of the nation: for political and other reasons.
 
3.              Body language means a lotwhen you want to read one's thoughts, one's lips…. or between the lines. I did not notice the Prime Minister applauding or thumping the table whilst all the others, by his side, were enthusiastically heralding the alleged new lifesaving mantras, the so-called life-support magic formulas and other professed life-preserving hopes and dreams.
Also: History reminds us that in the past, the real centre of attraction was only the Minister of Finance on such special and historic occasions.
He was like the bridegroom who received all the love, care, respect and attention. And that once in a lifetime. No longer now!It was shockingly cheap when the Prime Minister indulged himself in self-glorification and stomach-thumping when he addressed the press.  North Korea should have blushed. What a sorry sight! HIS MORAL OBLIGATION?He should have allowed his Minister of Finance to illumine and shine.
That's the only special event and rare opportunity — once in a year — of his political career. Why pull the rug out from under his feet? Note: It was the same sad story, sometime ago, when the Minister of Foreign Affairs had shone by a wonderful praiseworthy speech at the UNITED NATIONS. Make no mistake: There is something rotten and foul-smelling in the kingdom of the Prime Minister. In truth, he sees to it that there is only one bear in its den and only one mating male among the pack of female stags in the Mare-aux-Vacoas forests. Hurrah!On Budget day, Subash Gobine got himself noticed just behind his new umpteenth Master. Definitely, not the last one of that dying breed!
 
FUTURE PRIME MINISTERS, MAKE A MENTAL NOTE: BE LIKE A CARING AND HUMBLE FATHER FIGURE. LET YOUR MINISTER OF FINANCE BE SOLELY UNDER THE SPOTLIGHT AS A BRIDEGROOM. DON'T STEAL THE LIMELIGHT. NEVER DEBASE YOURSELF!
 
4.              The measures on the Banking institutions and Sale by Levysystem are good. Now, put order on the premises of the MASTER'S COURT. Rescue the victims who are being exploited and abused more by their own people than by some corrupt bankers and attorneys. Chase away the armed thugs, and disguised and undercover drug traffickers from the said premises.
Whither the Rs100m voted in 2007/2008 for the victims who were on hunger strike before the Supreme Court?
 
5.              Think over these few amusing anecdotes: Somebody with a gargantuan appetite suffocates by eating large meals and thereafter starves to death because he has none left. A sick man consumes all the one-month prescribed medicine in one gulp. A worker chooses to work for long hours over many days — and that with little or no sleep — and thereupon enjoys life for the rest of the year.
One last example: A competing athlete follows a strict dietary regime and intensive physical exercise for only a few days and therefrom overeats, oversleeps and leads a life of opulence.
SERIOUS TSUNAMI REPERCUSSIONS IN ALL THE ABOVE-MENTIONED FOUR CASES? They will go from bad to worse. And best will turn out to be the enemy of good!
Which all brings us to the NATIONAL ASSEMBLY proceedings as from next week. You mark my words instantly: There will be marathon speeches till the early hours of the morning. And that will continue for some 2 weeks. THEREFROM: They will go on vacation for four full months.
What's the logic? Keep in view the four above-cited anecdotes!
Overall, in given circumstances, the Xavier Duval Budget is not that bad when the country is faced with an Opposition as bad as the Government. It could have been still better… had the Ministers known how to live with the common people and associate themselves with their day-to-day concerns, fears, and woes and worries. Alas!
Anyway, a beautiful French proverb is crossing my mind right now: «Celui qui se sert de l'épée périra par l'épée. » Which in turn forthwith gives rise to another English one: «Sow the wind and reap the whirlwind. »
All said, it's the story of one spider caught and trapped in the cobweb of another!
 
THEREFORE, IT GOES WITHOUT SAYING THAT THE ONE WHO UTILIZES FOR HIS OWN GOOD AND GAIN: born traitors/skilled turncoats / polished deceivers / accomplished double-crossers / talented snakes in the grass / gifted and matchless back-stabbers / and deep-eyed Judas… will verily experience Judas Iscariot's deathbed kiss— sooner or later.
 
Enemies inside; opponents outside. Catch your breath now: At the end of some classic movies, the murky past of the actors often catches up with them. No finger-pointing! History mirrors that simple but sad and painful truth. Nonetheless, if by sheer coincidence the cap happens to fit any top brass, let him wear it for good and all. No worries!