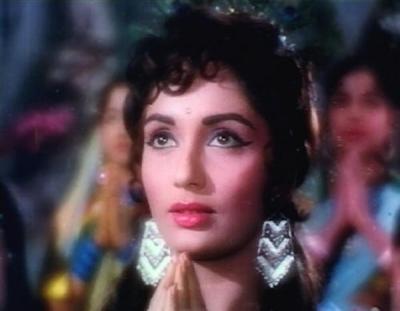 Moviegoers of the 1960s were saddened to learn the demise of one of the great ladies of Hindi Cinema, the fringe hair-styled lady, Sadhna, who passed away on the eve of this Christmas.  Her aura lasted for one decade and a few more years starting from the early 1960s up to 1974.  She portrayed the woman of her times, usually playing mysterious roles in movies clad with suspense and drama. Mauritian moviegoers enjoyed those great times in dark theatres where film makers shifted from the traditional family drama to more daring movies which drew audiences to fully-packed theatres.  Sadhna was the ideal actress to play the mysterious woman role as she portrayed it convincingly with her peering looks.
Initially, Sadhna played the romantic roles with popular artists like Rajendra Kumar, Raj Kumar and Dev Anand.  Going back 50 years in the timeline means something of grand nostalgia to the audience.  In 'Hum Dono', one could fondly recall that song of timeless beauty 'Abhi na jao chorkar Ke dil abhi bhara nahin' composed by great lyricist, Sahil Chaudhary.  This was supposedly the stepping stone of Sadhna's career in the film industry and also built up her reputation among newcomers of that time namely Nanda, Priya, Rajshri or Simi.  Incidentally, her popularity impacted on Indo-Mauritian families where new-born baby girls had names like Sadhna, Rajshri or Priya.
At the peak of her career, Sadhna had the choice of working with big banners like Yash Chopra in the 1965 classic 'Waqt' where she co-starred with Sunil Dutt, Raj Kumar and Shashi Kapoor.  In this multi-starrer that is broadcast quite often on MBC-TV, she is remembered for her sparkling pearl sari and her novel fringe hairstyle that became her landmark.  The Asha Bhosle ravishing song 'Kaun aya ye nigahon me chamak chand' remains one of the numerous highlights of the movie where Raj Kumar in a perfect blacksuit listens in full delight to the inspiring love song.
For Mauritian fans, Sadhna is also remembered for the roles that she played in the Indian 'film noir' series that characterised the 1960s.  At a time when 'Bees Saal Baad', 'Kohra' or 'Jaal' made audiences flock to theatres like Globe, Majestic or Luna Park, Sadna gave sterling performances in three Raj Khosla movies namely 'Who Kaun Thi', 'Anita' and 'Mera Saaya'.  The most convincing and popular performance comes from 'Who Kaun Thi' (1964) where she gives a spellbound performance of a phantom standing alone at the heart of the night in a cemetery. This opens up the scene in that movie where Manoj Kumar, the movie hero, painfully makes his way in a forest under torrential rain.  When he crosses the remote cemetery, he meets a woman dressed in a white sari.  When the hero offers her a lift, he notices blood in her fingers.  He then asks her of her wound and in an astonishing style, Sadhna stares at him and tells him coldly that she is fearless and likes the drip of blood.  This scene is now considered as one of the most well-staged mystery shot of Indian cinema to date.
Sadhna appeared both in 'black and white' and colour movies.  One of her wonderful performances in her earlier movies comes from 'Parakh'(1960) directed by Bimal Roy.  There is an enticing romantic moment in the movie where on a rainy afternoon, she hums the heart-rendering song 'O Sajna Barkha Bahaar Laayi' in a sombre décor with tranquil rain drops dripping on a thatched roof.  This song also written by Sahil Chaudhari, translated from a Bengali version, makes us revive those days of great music aired bu 'Binnaca Geetmala' which Mauritians could receive through short-wave 'Radio Ceylan' back in those days.
Sadhna's career, though successful in the 1960s, could not extend to the next decade where competition was getting stronger with newcomers like Hema Malini, Rekha, Rakhee or Zeenat Aman.  In a situation that was tougher to bear, Sadhna left Hindi Cinema with a film that she produced and directed named 'Geeta Mera Naam'.  Since then, she could barely be seen on the screen but stated in an interview that she wanted her fans to think of her as the actress whom they knew in the 1960s.
And, so, what can we recall of her today when Sadhna becomes a legend of cinema.  For us, less older Mauritians, her pearl sari, her fringe hairstyle and her bewitching looks could make sense as seen from the colourful 'Waqt' movie.  For elders, they could simply say 'Please do not leave us as the heart is still surfeited with thy charm'-a direct translation of 'Hum Dono's song, but the reality is just another thing with the passage of time.