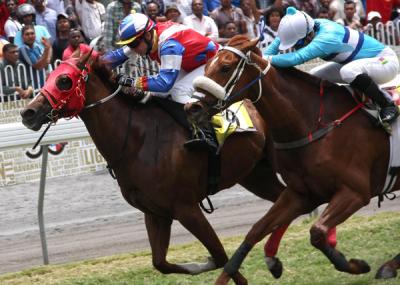 Mark Neisius is back in the winners' enclosure to bag his fifth win of the season. People can say only the fifth win but the man has been battling to get the rides, specially the good ones as he is now a freelance. Better rides are now coming his way and he hopes to finish the 2013 on a high note.
Mark, you had a couple of rides today as compared to the previous weeks. You managed to bag a winner. You cannot complain about it?
No, I cannot complain. Question Time won a very good race. It wasn't easy for him. He had a bad draw. I got a nice position, then I was taken out three wide as Cedric couldn't get control of his horse Miesque's Wonder on the rails. But still he fought on to the finish. All credit goes to him.
Did you work him before at home?
No. The first time I sat on him was in the parade ring today. I didn't really know what to expect. I watch the videos. Last time he was like fighting with his rider. He was probably placed a little bit too handy that day. From the bad draw, we decided to settle him. It was a tough race and for him to fight off Smartelli at the finish took a lot of courage. It's a very promising win as he gives the impression that he can win again in that division.
Mark you've always said that Diamond Light is looking for 2000+. Now that he finished 2nd on the mile, how do you rate his performance?
Look, this horse is like my own child. From day one I said that he is looking for more ground. The minimum for him is 1850m. He only gets going in the last 75m. He would never beaten Ashanti Gold on a mile, never! I personally believe, in his category, over 2000m, 2100m or 2200m, they won't beat him. That's what he is looking for. What he shows today is testimony that he is a very good horse as it is not his ideal distance. This was a very encouraging run from him considering that he has run some solid races this season. He has done very well. The owners should be very proud of him.
You have ridden both of them in the past. Who is better, Diamond Light or Carcassonne?
I've always said Diamond Light. Some people have disagreed with me. Two things I said about Diamond Light. First that he needs blinkers which they have actually put on and second that he needs more ground. It is only then you see the very best of him. I still maintain that his best win was on Maiden day of 2011 when he won on 2100m. He won a top race that day. He still fought off to the finish after he has had a difficult race.
What about Adeste Fidelis who managed to finish second in the main race ?
He didn't disgrace. The winner is a top horse. He had 60kg on his back and he went quick. He was just too good on the day.
Mathafa with the blinkers ?
I thought I was more clever than what he is. He just put his dead down and his race was over. He is an animal. I tried to trick him but it didn't work. I think we have to reassess him as he does not lack ability this horse.
Can Tobin win at last a race ?
They went hopelessly fast. I was way over my ground. But that is how you can ride him. If you try to place him, he doesn't kick. On 1365m and the way the race went, there was too much ground to make. He still ran on, he still finishes his races well but we were just too far back. Let's hope that he can make it one day.
What can racegoers expect from Mark Neisius for the couple of weeks leading to the end of the season?
The rides are picking up actually. I'm getting better rides. I just have to keep working hard. I'm here to try my best. I have had a couple of rides on the 32nd meeting, a couple of rides for next week as well. I have also been booked for the Gold Cup . I just hope to finish the season on a high note.