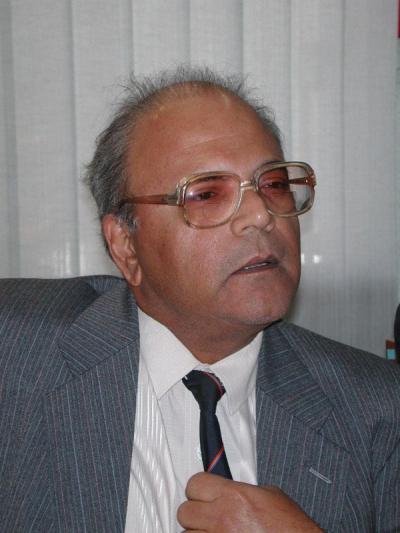 A number of tributes have been posted during the last few days on how Pr Jagadish Manrakhan rose from very modest beginnings to become the first laureate of the School of Agriculture, the first GM of the Agricultural Marketing Board, the youngest Vice Chancellor of the University of Mauritius overseeing its transformation from the School of Agriculture to a fully-fledged world class University, CEO of the Mauritius Research Council, Food & Agricultural Council ; Board director of the Standard Bank, Chairman of the CEB, NESC, SIFB, Association of Commonwealth Universities — Author of a number of articles, papers and books, including the first one from a Mauritian author to be listed on amazon.com and countless other achievements…
But for us, you were simply Dad, Papa Prof, Bhonoye, Nana, Kakou, Dada Prof who leaves us today with a very heavy and priceless legacy, that of extreme integrity, hardwork, respect for others, constant quest for knowledge and truth.
Even after your departure, you give real meaning to "R.I.P.", having come in this world quietly, lived peacefully, with the utmost respect for the human being irrespective of race, religion, ethnicity and creed. Despite the conservative backgrounds of the family its strong resistance, you welcomed Catherine in the family with open arms and became her best friend later on.
We thank all those who have shared in our sadness … and we can imagine what your funeral in Mauritius would have been like but you decided to depart peacefully and quietly as you came and lived.
Emotions run high today in part due to the loss of a larger-than-life person who blessed the lives of the extended family of Manrakhan, Rajarai, Ruhee, Balgobin and others but we also fear the loss of your "silent presence" and feel the burden of ensuring that your legacy is carefully passed on to your grandchildren Rohan, Rayan, Simon-Rahul and Hrimann.
Wherever you are Dad, we know that Mom, Sarita and Catherine and many others will be happy to welcome their best friend.
Until we meet again, we will continue to look up to you to shine your light on our path as we continue life's journey.